Copyright 2020 TopPun.com
Know Writes Unreserved
Design Categories
MLK Day is Jan. 20
Top Products
Celebrate MLK Day 2014! Buy your Martin Luther King Day products TODAY!
Peace Signs
Stickers
10+ Buttons
2+ T-shirts
4+ Bumper Stickers
5+ Sticker Sheets
2+ Caps
10+ Magnets
4+ Key Chains, OR
10+ Posters
Free Printable Posters
Free Cool Wallpapers
Peace Sign Wallpapers
Gay Wallpapers
Gay Posters

Share FREE for ALL freebies with others
Web Specials
$$SAVE$$
100 buttons for $29.95
$0.39 buttons
$10.95 T-shirts
stickers from $0.50 per sheet
posters from $0.40 each
$$SAVE$$
Top Pun is your best source for serious, funny, and seriously funny
peace sign Sticker Special
PEACE SIGN STICKERS SPECIAL: 12 Assorted Designs (A)
Sheet of 12 Assorted Peace Sign Stickers
Peace Sign Specials Specials Stickers Specials
PEACE SIGN STICKERS SPECIAL: 12 Assorted Designs (A)

SPECIAL-Assorted-Peace Signs-STICKERS-Assortment-A

$2.95

SALE PRICE is $0.99

1 Sheet (12 Stickers)
MORE INFO on Sticker Special:
PEACE SIGN STICKERS SPECIAL: 12 Assorted Designs (A)
Stickers (Sticker Sheets) - a virtual bumper crop of stickers!
Top Pun's circular stickers are 2-1/2" diameter and come in sheets of twelve stickers. The prices above are per SHEET of 12 stickers. NOTE: these stickers are not weatherproof; they are printed on address label stock with an inkjet printer. If you want a waterproof sticker, check out bumper stickers. These stickers are an economical and effective ways to get your message out and conduct guerrilla marketing. Buy bulk stickers and save -- for a message that will stick with you! Check out Top Pun's cool Sticker Web Specials on select designs. You will love to pass these cool stickers out to your family, friends, and enemies. Just due it!
View more product info for Stickers.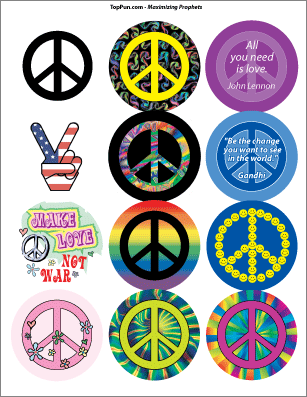 RELATED PRODUCTS:
If You Like This Design: PEACE SIGN STICKERS SPECIAL: 12 Assorted Designs (A)
Check Out This Cool Design In Other Products:
Buy Your peace sign Sticker Special Today!
Thank you for visiting my "Top Pun" store, the web's best source for funny, serious, and seriously funny political products. Please enjoy my huge assortment of unique designs, featuring funny sayings, slogans and quotes. Match your favorite peace sign designs on cool products such as T-shirts, bumper stickers, stickers, buttons, coffee mugs, caps, magnets, key chains, and posters. Join Top Pun's campaign as the unofficial outfitter for peace, love and understanding, and to stop violence, hate, and racism - make love not war! Where else can you delight in puns not guns, and exercise your God given right to bare arms in the coolest peace sign T-shirts in the world!? Celebrate diversity as you frolic among dozens of cool design categories, such as peace, peace signs/peace symbols, anti-war, political activism, gay-lesbian pride, Martin Luther King, Jr., religious-spiritual, and public health. Get your peace sign T-shirts, peace sign bumper stickers, peace sign buttons, peace sign coffee mugs, and other great peace sign merchandise for this day and every day. Just due it!
Sheet of 12 Assorted Peace Sign Stickers: PEACE SIGN STICKERS SPECIAL: 12 Assorted Designs (A)