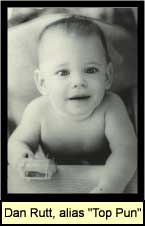 Who is Top Pun?
Good puns? Bad puns? There are only good puns in the dis'armament business! Top Pun, the "pun name" for Dan Rutt, the soul proprietor of this joyful busyness. Top Pun is the "Top Gun" of the peace business, always looking for the perfect takeoff and a peace of the action. I am a paronomasiac committed to peace and justice, and the founding member of "Punslingers for Peace" (don't worry, TP will keep it clean). I created TopPun.com to assure double meaning full work, combining serious social action with playful irreverence. By sharing a little peace of mine, I can fulfill my mission: to maximize prophets! If you love peace-filled puns, check out Top Pun's "Puns Not Guns" Manifesto. Due the write thing! (though some say it's just a phrase I'm going through).
Please enjoy my designs and ever-growing line of products. It all started out as a hobby making buttons. Now you can choose from T-shirts, bumper stickers, coffee mugs, mouse pads, stickers, aprons, and more! I also publish short-run books for Toledo area poets and authors.
Read a more detailed bio of Dan Rutt.
Never forget: "The pun is mightier than the sword", and "Justice is no yoke!"
Peace,
Dan Rutt, alias "Top Pun" (it's just, my pun name)
Soul Proprietor
Contact Top Pun:

Do You Have a Question or Comment?
You can contact Top Pun through e-mail, snail mail, telephone, or fax.

---

By E-mail:
TopPun@TopPun.com

---

By Mail:

Dan Rutt, alias "Top Pun"
TopPun.com World Headquarters
2628 Parkwood Ave
Toledo, OH 43610-1319

---

By Phone:
419-244-2169
Besides being "virtually" everywhere, TopPun.com is located in Toledo, Ohio, USA, Planet Earth.