Copyright 2020 TopPun.com
Know Writes Unreserved
Design Categories
Featured Categories
Top Products
Top Pun in Action - Pictures
Top Pun, pictured to the far left, is only one small slice of life on the Washington, D.C. Mall on Saturday, January 27, 2007, as hundreds of thousands of Americans gathered to protest the illegal Iraq war. As you can see, Top Pun is fully equipped as a mobile epicenter of peacemaking. Top Pun packs and displays eight different peace buttons, with a total stock of over 600 buttons, utilizing many obvious and not-so-obvious "pockets of resistance." The unique "hands down the best" self-supporting three-sided protest sign floats like an anarchist's halo, which provides the maximum overhead for the least effort.
See Below for More Protest Pictures...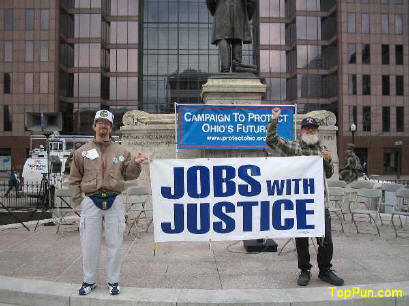 On Tuesday, April 12, 2005, Top Pun (pictured as all ways to the left) rallied with thousands of other Ohioans at the Ohio Statehouse. This rally was organized by The Campaign to Protect Ohio's Future. Top Pun participated as part of Jobs with Justice Toledo, which took three buses full of demonstrators (see Jobs with Justice pledge). The Campaign to Protect Ohio's Future is a coalition of over 370 health, human services, primary and secondary education and higher education organizations, which calls on Ohio Legislators to protect Ohio's most vulnerable citizens by restoring or adequately funding vital services through a responsible budget that as its primary priority meets basic human needs and providing sufficient funds to invest in Ohio's future. Top Pun took over 80 photos from the April 12th rally. View protest pictures from this rally.
Pictured to the left is Dan Rutt, alias "Top Pun" (it's just, my pun name) marching as a Jobs with Justice member in Toledo's Labor Day parade. Of course, that's him marching to the far left...

View more pictures from Jobs with Justice Toledo Labor Day Parade.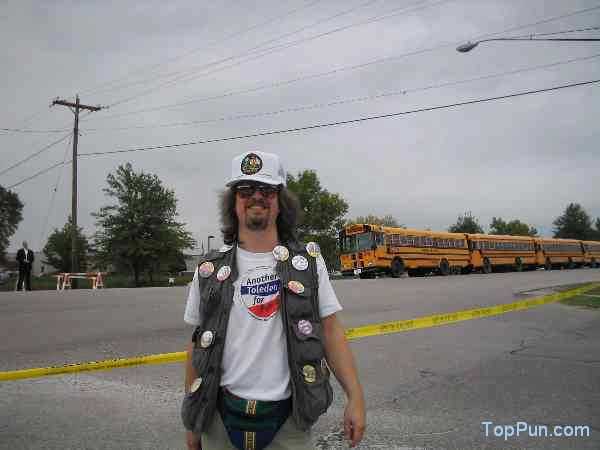 Pictured here is Dan Rutt, alias "Top Pun" (it's just, my pun name) showing off his "pockets of resistance," that is a vest full of anti-Bush buttons. This photo was taken at an anti-Bush demonstration to greet candidate George W. Bush outside of Fort Meigs (a mighty fortress is our Bush) in Perrysburg, Ohio, near Toledo. Top Pun and hundreds of citizens from northwest Ohio endorsed an end to the reign of King George, his heinous' last bus stop before the Republican National Convention, where record numbers of Bush protesters will carry on the greeting. View lots of anti-Bush protest pictures.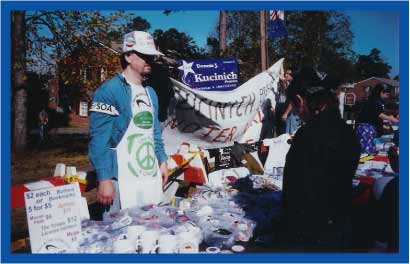 At left, that is the far left, This is Top Pun at the November, 2003 SOA Watch protest outside Fort Bening in Columbus, GA.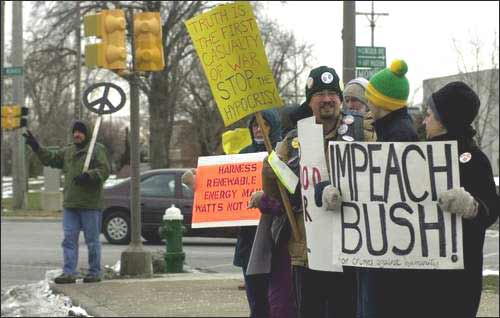 On the right (or is that IN the right?!) is a protest against war in Iraq, sponsored by the Northwest Ohio Peace Coalition. Protests are held every Sunday at a different busy intersection in Toledo, Ohio, USA, Planet Earth. I'm the person in the middle with all the buttons (of course), holding the sign saying, "Truth is the First Casualty of War: Stop the Hypocrisy."

The Northwest Ohio Peace Coalition, at Monroe Street and Collingwood Boulevard, registers opposition to possible U.S. military involvement in Iraq. The group formed after Sept. 11, 2001, to oppose indiscriminate bombing in Afghanistan.
Photo: THE BLADE/LISA DUTTON

Top Pun in Action - Pictures